When it comes to spreadsheets, most people think of numbers, formulas, and calculations. But did you know that spreadsheets can also be amazing at organizing words? Today, on Word Nerd Day, let's explore the world of text functions in Excel and discover a fun word cloud tool that will bring your words to life!
A Fun Word Cloud Tool to Try
Are you ready to have some wordy fun with spreadsheets? Meet Robert Mundigl, the genius behind an Excel workbook that lets you create stunning word clouds right within Excel. Intrigued by its potential, I downloaded his sample file and gave it a whirl.
The file had a default example, but I went for the one filled with Bruce Springsteen lyrics instead. It sounded more entertaining and saved me the hassle of creating my own word list.
However, I found the default settings a bit challenging to read. The word cloud had a light grey background with green Lucinda font. Luckily, Robert had made it a breeze to adjust the settings directly on the main worksheet.
Change the Word Cloud Settings
With a few simple tweaks, I quickly tailored the word cloud to my liking. I switched the font to Impact, changed it to black, and increased the font size. Voila! The word cloud transformed into a visually striking masterpiece.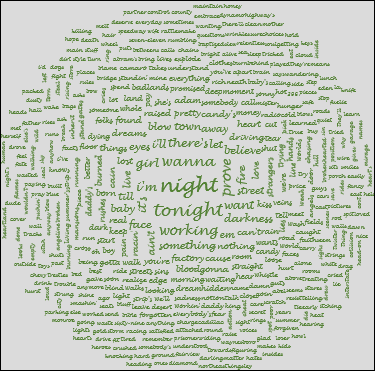 Create Your Word Cloud
Once you've adjusted the word cloud settings, it's time for the magical moment: creating your very own word cloud in Excel. Follow these steps:
At the top of the worksheet, select a song from the drop-down list.
I chose the legendary song "Born to Run," and here's the word cloud that emerged: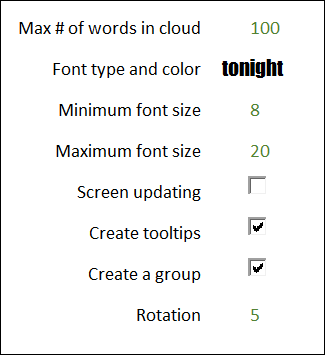 You might have noticed something interesting. Although the word "Born" is in the title, it doesn't dominate the word cloud. Can you find it?
Dive into Word Cloud Word Counts
If you're curious about the word frequencies in the word cloud, Robert has you covered. On another sheet, he provides a list of words from each song, along with their respective word counts. To explore further, I used the filter function and discovered that "born" appears three times in the song "Born to Run." It may not be the most prominent word, but it's there.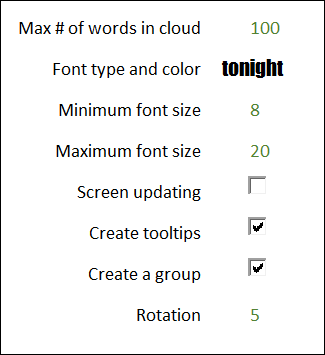 Unveiling Hidden Gems in the Word Cloud
Equipped with the knowledge of word counts, I took a closer look at the word cloud. Eventually, I spotted "born" on the left side of the chart. But here's where it gets even more exciting: when you hover over a word, a handy tooltip appears, revealing the word and its word count. How clever is that?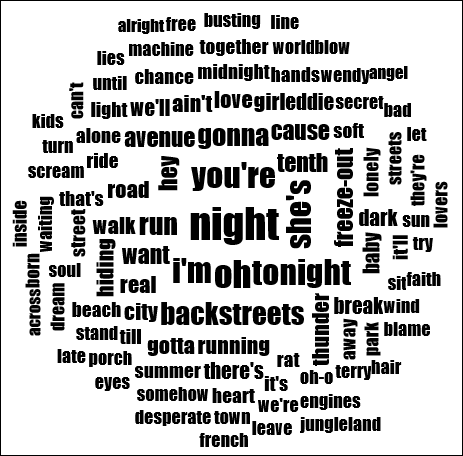 Excel TEXTJOIN Function for Words Galore
Now, after indulging in the word cloud fun, it's time to get back to work. Lucky for us, Excel offers a plethora of functions and formulas that can assist in working with words. One particularly handy function is TEXTJOIN, available in Excel 365.
TEXTJOIN makes it a breeze to combine the contents of multiple cells. Check out this short video for a couple of TEXTJOIN examples, or head over to my Contextures site for detailed steps and additional examples.
Combine Text and Numbers
If you don't have TEXTJOIN in your Excel version, fear not! You can still achieve the desired results using the "&" operator to combine data from multiple cells. Additionally, you can utilize the TEXT function to format the numbers, ensuring they're easily readable within the combined text string. Watch this short video for a step-by-step guide or visit my Contextures site for more detailed instructions and examples.
And there you have it – a delightful excursion into the world of word clouds in Excel. Whether you're a spreadsheet aficionado or a text enthusiast, this powerful tool will ignite your creativity and organize your words like never before.
To explore more Excel tips, tricks, and insights, head over to NetPaylas, where you'll find a wealth of helpful resources. Happy Word Nerd Day and happy spreadsheet adventures!